Webcaster Songza has launched a "native advertising" solution it says is already producing benefits for advertisers in engaging potential customers.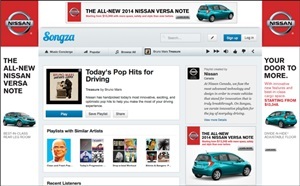 Songza is the webcaster known for its Music Concierge, which offers curated playlists suited to listeners' activities and moods (and has been replicated by services no less than iHeartRadio and Slacker). Native advertising means incorporating brands and ad messages into the actual content of a service — in this case, Songza's musical experience.
Co-founder and CCO Eric Davich described the benefits of the platform, named "Sponsored Moments," to the SoundCTRL blog. According to Davich, the program is about tapping "into the personal, trusted connection we have with our users in order to provide contextually relevant experiences."
Songza has worked with brands like Taco Bell and Samsung and created song collections like "Getting Hyped" and "Going Back to College" that fit those brands.
"We work closely with brands to tell their story with the personality," Davich said. Brands "need to contextualize their message in a way that relates to the consumer's context," he continued, "not just who they are and where they're from, but also what they're actually doing at that very moment."
Songza recently completed it latest round of financing of $4.7 million (investors include Lady GaGa's and Justin Bieber's managers), and took home the FlashFWD award for "Best in Discovery."
Read more in SoundCTRL here.