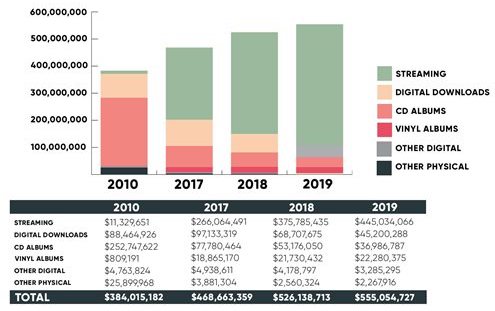 Australia saw a fifth consecutive year of growth for its music industry. The 2019 figures from industry group ARIA revealed 5.5% annual growth in wholesale revenue, reaching more than A$555 million. It was the best year for Australia's music industry financials since 2004, according to ARIA.
Streaming represented more than 80% of the country's music market, growing 18% from 2018. This format has ballooned in value for Australia over the past decade. In 2010, streaming yielded nearly A$11.33 million in revenue. As more listeners made the shift, streaming revenue jumped from A$266.06 million in 2017 to A$445.03 million last year.
In contrast, digital downloads saw revenue fall 34% last year, generating A$45.2 million. Physical sales dropped 21%. Vinyl is continuing to grow while CD sales do the opposite. CD album revenue for 2019 was A$36.99 million and vinyl revenue was A$22.28 million.
"2019 was a strong year for the Australian recording industry as we saw the fifth consecutive year of growth," ARIA CEO Dan Rosen said. "2020 will be a year like no other due to the impact of COVID-19, but Australian artists and the music industry have faced numerous challenges over the years and have consistently adapted and innovated. With the continued support of Australian music fans, the music community and government, we will get through this together."