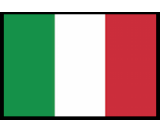 Italy's music sector grew 22% to €65.5 million in the first half of 2015, according to the Italian Music Industry Federation. Audio and video streaming secured 26% of the total market. Both types of streaming generated €17.3 million in the half, up 37% from the year-ago period. Sales of digital downloads rose just 6%. The entire digital business generated €28.1 million and represented 43% of the total market, rising quickly from the 38% in had in the full-year 2014.
The Italian market is one of the few to report improved performance for physical formats. CD sales increased 21% and vinyl sales rose 72%. All physical format sales still hold 57% of the total market.
The industry group's information for the first half was gathered by Deloitte. The recent increases in digital performance echo the trends in the organization's 2014 year-in-review.