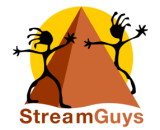 StreamGuys, a specialist in Internet radio technology, is getting into the Amazon Echo game. The company announced that it can create custom Alexa skills for its broadcast clients. This would bring extra voice command functionalities for listeners tuning in on the Amazon Echo, Echo Dot, and Echo Tap smart home speaker devices. The new feature offering expands StreamGuys' existing SaaS tools for producing, managing, delivering, and monetizing streaming media and podcasts.
"As an audio-centric solution with no distracting screen, Echo devices are perfect for audio streaming, and are helping bring radio back into people's households," explained StreamGuys COO Jonathan Speaker. "However, it can be hard for users to find a station if it's listed only by call letters, and even more confusing if multiple stations use the same marketing brand. By affordably offering our customers custom Alexa skills creation, we're enabling them to quickly establish their presence on this important platform."
Independent community station WWOZ in New Orleans is one of the first broadcasters to take advantage of the latest StreamGuys offering. Listeners can ask their devices to listen to the station live or to play a particular genre from its archives.
"Since launching our on-demand archive with StreamGuys using their SGrecast software-as-a-service platform, it has become one of the most popular features on our site," said David Stafford, new media director for WWOZ. "Our new Alexa Skill enhances our on-demand offering by giving our listeners a powerful and effortless new way to access it."