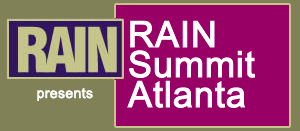 Radio simulcasting strategies will be a focus of RAIN Summit Atlanta, September 29 at the Atlanta Marriott Marquis.
Radio stations have been grappling with simulcasting questions for many years. Within the growing imperative to get a station (or station group) online, there is another question — whether to present online listeners with a replicated terrestrial stream (simulcast), or create a new, online-specific listening experience. Think of it as an old question with new life, especially when considering total audience measurement that can elevate a station's share to advertisers.
John Gehron, COO of AccuRadio, will lead a RAIN Summit discussion. "Does simulcasting the stream bring more listeners, or fewer? Does it cost less money to simulcast? The answers may not be as obvious as you might think," said Gehron. "The panel will discuss the various streaming strategies and how to craft a strategy for your station. Also, what drives listeners to streams. Beyond out of market and difficult reception locations, there are some major content opportunities that can increase listening."
Confirmed speakers for the panel include leaders from broadcast, technology, and marketing:
Pierre Bouvard, CMO of Cumulus/Westwood One
Susie Hedrick, VP of Radio Sales at WideOrbit
Tim Murphy, VP Digital Strategy & Enterprise Platforms at Entercom
Carolyn Gilbert, Founder and President of NuVoodoo Media
Matt Nystrom, VP of Digital Media, Saga Communications
RAIN Summit Atlanta is the preeminent knowledge and networking event of the online audio industry. A partner event of the NAB/RAB Radio Show, the Summit is a single-stage event taking place the day before the Radio Show starts. Key industry topics — mobile delivery, programmatic asdvertising, podcasting, alternate radio revenues — are examined by expert panels, mixed with special research and keynote presentations.
CLICK HERE to see the complete agenda and confirmed speakers, and to register for this vital and affordable event.