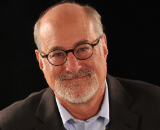 Steve Goldstein's Amplifi Media works with media companies and podcasters in developing audio content strategies. This column was originally published on Blogstein, the Amplifi blog.
---
The growth and importance of podcasting was on display at last week's NAB in Las Vegas via an expanded track of podcast sessions spearheaded by the NAB's resident podcast guru Josh Miely. I had the good fortune of moderating the first panel "Ahead in 2018: This Year in Podcasting" with some of the top executives in podcasting including Panoply's CEO Brendan Monaghan, Midroll Chief Revenue Officer, Lex Friedman, Libsyn's VP of Podcaster Relations Rob Walch and Triton President of Market Development John Rosso.
John shared "Interesting Podcast Data That Has Never Been Seen Before;" fresh insights prepared for the panel including data from Triton's platform of 3,500 podcasts from some of podcasting's top content providers.
The share for listening on smart speakers swells significantly from 7% to 23% for content less than 15 minutes in duration.
For sure, it is early days in measuring smart speaker audio, but Triton's data reveals interesting differences in platform use depending on the length of podcast content.  In general, podcast content listened to on smart speakers is nascent.   The share, however, for listening on smart speakers swells significantly from 7% to 23% for content less than 15 minutes in duration.
---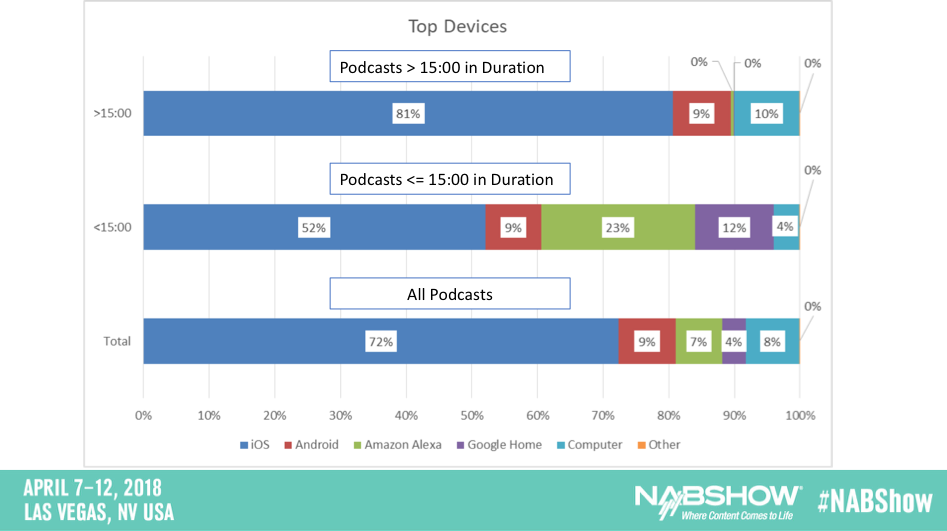 ---
This probably has a lot to do with Triton serving as host for NPR and their breakout dominance in Flash Briefings on the Amazon Alexa platform. So, while these numbers may not replicate against a broader mix of podcast content from other sources beyond Triton's platform, directionally, it is interesting to see data suggesting that smart speakers may be better suited for bite-size audio. That is something I have shared previously in this blog from data we have seen with Sonic Ai clients.
---

---
The Triton data reveals Friday is a bit different
Podcasters frequently ask about the best days to publish content.  You can see a pretty consistent distribution between weekdays, but the Triton data reveals Friday is different with about 45% of the content published on Fridays downloaded within 24 hours.  That's in contrast to every other day such as Tuesday (51%) which is higher and Sunday (83%) which probably has fewer titles released and thus fewer downloads.  Overall, the download pattern hovering below 50% in the first 24 hours is interesting.
---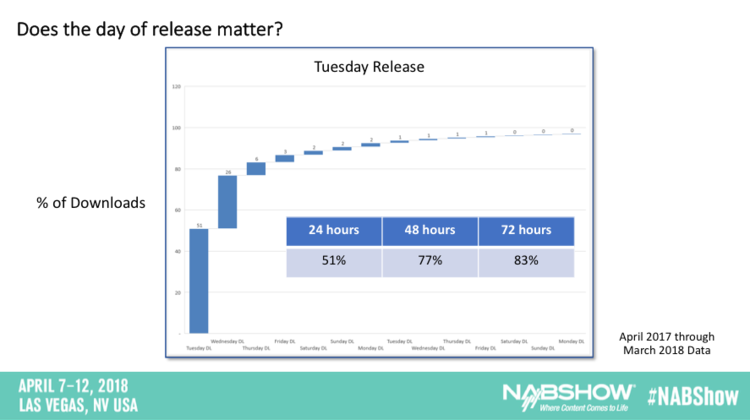 ---
Some other stats which came out during the session from the panelists:
Spotify is now a firm #2 in terms of podcast downloads on the Libsyn platform which includes some 44,000 podcasts (though not all on Spotify).  Rob Walch told the crowd that the median number of downloads across all of their hosted podcasts is only 150, which is a reminder that most podcasts have a small constituency, and only the top 1% or so swing for the fences.
Consistent download measurement metrics has been of ongoing concern with many companies adopting IAB standards to insure we move from measuring "apples and zucchinis" according to Midroll's Lex Friedman.  Brendan Monaghan says, it is early, but they are doing more granular profiling of listeners via a Nielsen partnership.
CPM's (Cost per thousand), remain high for major shows with Monaghan and Friedman quoting numbers anywhere from $15 to $70 dollars. Monaghan points to $35 and up.  While host read ads still dominate the medium, there is activity, and controversy, with programmatic audio ads. Rosso points to the success of streaming measurement and ad insertion.
Midroll's Freidman told the audience "The more we do to make podcasting less like podcasting, the slower that growth will be." Panoply's Monaghan said "What got us here will not get us to where we want to go."
Podcasting in 2018 is on the rise, and these panelists are among the strongest voices.
Thanks to John Rosso and his team for pulling together some valuable content.