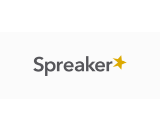 Staples, the office supply chain, recently announced Staples Connect, and interesting reinvention of some stores to include co-working spaces, community gathering spaces, and podcasting facilities. Six stores in Massachusetts are spearheading the initiative.
Today we get notice that Spreaker has joined up in this venture as the recommended hosting and distribution platform for podcasters who start with Staples Connect Podcast Studios. Each studio features a soundproof room with professional equipment for up to four people, plus a few perks to help podcasters along the way, like a dedicated in-store specialist — and a recommendation to get onto Spreaker with discounted costs.
"We're so happy to play a role in making podcasting even more attainable to creatives in the Boston area," Spreaker says. The company notes that teachers, students, and small business owners are core Staples customers, and this initiative offers an easy on-ramp to podcast creation and distribution.
Staples is providing online booking of studio space at $60/hour. That includes 20 minutes for setup and break-down.