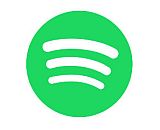 Spotify has folded another popular podcast under its umbrella. The audio company will be the exclusive home of the third season of Riggle's Picks, a show from comedians Rob Riggle and Sarah Tiana where the pair discuss sports, culture, and life. New episodes of the season will be published on Thursdays.
This is the latest in a series of exclusive programming moves from Spotify. The company recently announced a partnership with Higher Ground, the production company launched by Barack and Michelle Obama, for a slate of original podcasts. Plus it remains the source for big-ticket exclusive shows from comedian Amy Schumer and musician Joe Budden, and sports reporter Jemele Hill.
Podcasting also literally became more visible with a recent redesign of Spotify's mobile experience for Premium subscribers. That update gives podcasts their own tab in the Your Library section, on equal footing with music.