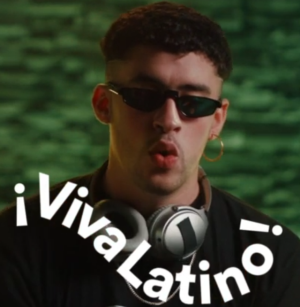 We got word this morning that Spotify's popular in-house playlist Viva Latino! now has more than 10-million followers (10,099,861 as of this writing).
A rating of 10-million users is a milestone achievement, and Viva's success is an indicator of the extent to which music playlists compete with CDs, radio stations, and even successful TV programs. Example — The Late Show with Stephen Colbert has a television audience of 3.7-million. Combine the program's YouTube subscription number (6.5-million), and the CBS hit show just edges above the Spotify playlist. Perhaps not for long: In the time it took to type this paragraph, Viva Latino! added 134 new followers.
The Latin music market in the U.S. is not only growing, but is voracious for streaming, listening to streams at a higher rate than the overall U.S. population according to a Nielsen presentation at Latin Music Week in January.
Spotify is celebrating the milestone with a splashy video when you first play Viva Latino.
Viva Latino! is the 3rd-most popular in-house playlist at Spotify. Today's Top Hits serves nearly 25-million people, and RapCaviar is followed by 11.8-million.