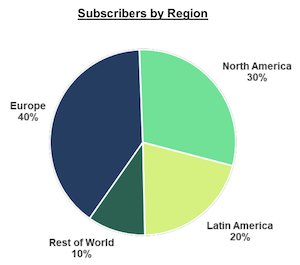 Spotify released its results from the third quarter of 2019. Total revenue for the period reached €1.73 billion, up from €1.35 billion in the same period last year. Premium subscriptions were responsible for €1.56 billion of that figure, with just €170 million delivered from ad-supported sources.
Spotify also turned an operating profit of €54 million during the quarter, compared with an operating loss of €6 million in the year-ago period. The company credited the positive result to share price performance and the associated social charges, but it said it still would have posted income even without that impact.
The streaming service had 248 million monthly active users at the end of the third quarter, up 30% year-over-year. Premium subscribers accounted for 113 million listeners, a rise of 31% from the same quarter in 2018. Spotify noted in its shareholder letter that its family and student plans helped to exceed expectations for net subscriber growth. Europe is responsible for 40% of the subscriber base, followed by 30% in North America and 20% in Latin America.
Spotify also shared updates on its podcast business. Podcast hours streamed rose 39% from the previous quarter, although the base is still small compared to Spotify's overall audience. Almost 14% of total monthly active users have adopted podcast listening. The U.S. is the largest share for podcast streams, but Spotify noted that multiple European nations are also seeing strong growth.
"We continue to feel very good about our competitive position in the market," the letter read. Spotify shared a few favorable stats about its audience and growth in relation to Apple and Amazon.
Along with the financial update, the company also announced that its CFO plans to retire. Barry McCarthy will exit as the lead financial exec on January 15, 2020. He will be succeeded by Paul Vogel, who is currently a vice president at the streaming service. McCarthy will likely be re-appointed to Spotify's board of directors, a role he had before assuming the CFO position, after his departure.