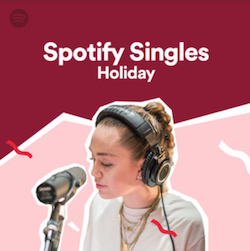 Spotify is getting into the festive spirit with a playlist of some exclusive holiday songs. The tracks are all from sessions of Spotify Singles, where performers record a few songs in the streaming service's studios. Now, Spotify has a collection of these exclusive songs highlighted in the Holiday section.
The tracks range from Wynton Marsalis' take on Jingle Bells to Demi Lovato singing I'll Be Home for Christmas to an original Christmas tune from Kelly Clarkson. Some of the artists also recorded a message to their fans and listeners, wishing them a happy holiday.
In addition to the special Spotify Singles, the streaming service has a large number of programmed playlists for festive listening, broken out by genre and mood.