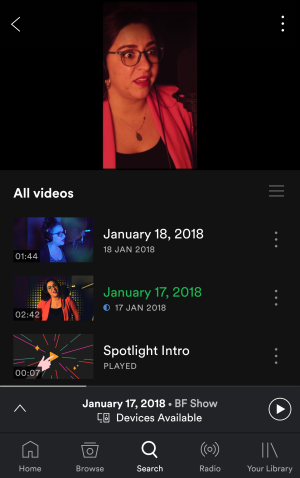 Spotify has introduced a new multimedia format that blends video and audio components. The feature is called Spotlight, and it can unite photos, video, or text when listening to podcasts, audiobooks, or news. The initial wave of Spotlight content will include third-party partners BuzzFeed News, Cheddar, Crooked Media, Lenny Letter, Gimlet Media, Genius, The Minefield Girl, Refinery29, and Uninterrupted. Some of Spotify's internal programming, including RISE, Secret Genius, Spotify Singles, and the new Viva Latino podcast, will also showcase the Spotlight format.
We located Spotlight in Spotify's Android app. Only two programs were there today: consecutive daily video versions of BuzzFeed's morning news program, Reporting To You. the video features the show host performing her read, with important bullet points of her newscast appearing on the screen. We have not encountered Spotlight inserted into a playlist — either music or podcast.
"We are excited to launch Spotlight, a new format that merges great storytelling, news, information and opinion with visual elements all delivered in playlist form across a number of content categories," said Courtney William Holt, Spotify's head of studios and video. "Playlists play an important role in the daily lives of our users bringing them closer to the creators they love."
Spotlight content is available now in the relevant playlists, but more is being promised.