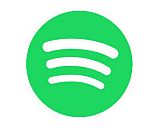 Spotify is reportedly on the hunt for a new headquarters and it's not in Sweden. Sources told real estate blog The Real Deal that the streaming service is looking for a new space in New York City. Spotify already has an outpost in the Chelsea neighborhood that has been in operation for about three years.
This possible move may have been on the radar for Spotify's leaders for some time. An April article in CNN Money cited an open letter by Co-founders Daniel Ek and Martin Lorentzon, raising some concerns about the local market environments. The founders said that New York and London were friendlier cities in which to operate a corporate HQ.
"Thousands of Spotify jobs could go to the U.S. instead of Sweden," the letter warned. If The Real Deal is correct, that job migration will happen.