"Our business exhibited strength and resiliency in Q1. Nearly all of our key metrics surpassed guidance, led by MAU outperformance, healthy revenue growth, and better Gross Margin. Excluding the impact of our exit from Russia, subscriber growth exceeded expectations as well." –Spotify
Spotify released its quarterly financials for Q1 today, revealing a four percent month-over-month growth of monthly active users (MAUs), from 406-million to 422-million. Those numbers include both parts of Spotify's platform model: paying subscribers and non-paying listeners who hear ads.
The subscriber base grows more slowly, and is smaller: 182-million subscriptions exist (some of which may be family memberships, depending on Spotify's counting method), and 252-million listeners use the ad-supported product.
Though smaller, the subscription side beings in most of the money, earning $2.4-billion in Q1 against $282-million of ad revenue on the other side.
Here's what it all looks like: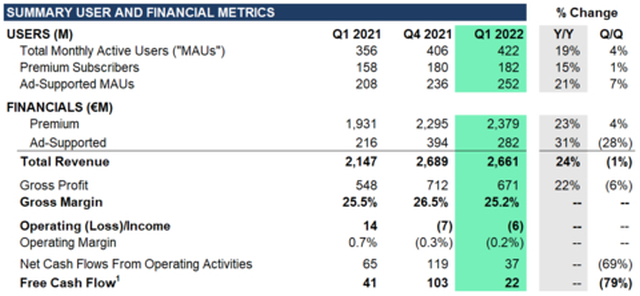 .