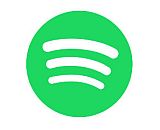 Spotify introduced a new platform aimed at promoting up-and-coming artists. It is not launched yet, but the RADAR program will feature 36 performers from around the world. The artists will be featured in an On Our RADAR playlist, and Spotify will offer them support with music videos, documentaries, live shows, and more. "Discover new artists on the norizon" appears to be a key catchphrase, shown on today's released promotional examples.
"We're deepening our commitment to emerging artists at all stages of their development and strengthening their connection to audiences," Spotify says in its announcement.
"Spotify is thrilled to announce the launch of RADAR this year with an incredible group of emerging artists from across the globe," said Ned Monahan, head of global hits at Spotify. "RADAR will become an influential program for up-and-coming artists across all genres worldwide and a great way for our global marketing and editorial teams to support the next generation of international superstars."
Spotify has a long-standing weekly personalized playlists called Release Radar, which might cause some branding confusion. That playlist has new releases, not necessarily from new artists, and each user's playlist is unique.
Another point of potential confusion is the On Our Radar podcast, which has 33 episodes in Spotify, and is produced on Spotify-owned Anchor. It is not a music podcast; it is a chatcast with hosts Marlon and Marie … and we are guessing they are celebrating today for the inadvertent exposure they will  receive when users start searching for Spotify's "On Our RADAR" playlist.