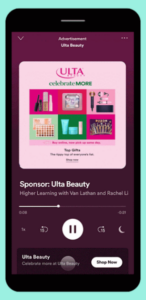 Spotify is hoping a new podcast advertiser product, launching today, will bring interactivity to podcast sponsorship, allow listeners to easily pursue advertised offers, and double the benefit of podcast advertising to companies which offer products directly to consumers.
It's called "call-to-action cards," abbreviated by Spotify as CTA cards. CTAs are visual, interactive prompts which display in the Spotify app when the sponsor's ad is played or voiced. They enable direct action to investigate or purchase a sponsored product, cutting out the traditional process of memorizing a sponsor code and visiting a website later in time.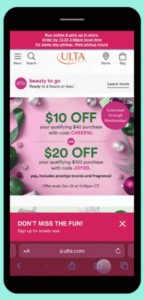 The cards appear when the participating sponsor's ad begins. That makes sense. Spotify also says the CTA cards will appear "later on while you're exploring the Spotify app." That bit is an eye-opener, as it pulls podcast advertising out of the podcast and into a more general platform experience.
These interactive cards are powered by streaming ad insertion. So the traditional host-read ad, renowned for its effectiveness and which is baked into the episode, is not eligible for CTA cards. But pre-recorded host reads can be dynamically inserted, and in that case would be eligible.
The innovation was formally introduced in a virtual panel announcement featuring two Spotify execs (VP Jay Richman and Anchor co-founder Mike Mignano). Also in the panel were Christine White representing launch partner Ulta Beauty, and Michael Tucker, creator and host of the podcast Beyond the Screenplay.
CTA cards have been tested, and Spotify says they result in a 2x increase in site visits when compared to non-clickable podcast ads. In addition to Ulta Beauty, well recognized podcast advertisers Athletic Greens and Squarespace are on board with CTA cards.
"We have been reimagining everything in audio through the lens of streaming, so for the first time in history we have audio creation, distribution, consumption and monetization all taking place in a single platform," said Jay Richman, VP, Global Head of Advertising Business & Platform, Spotify. "This allows us to innovate audio in ways not previously possible for consumers, creators, and advertisers alike."
"We know that consumers are largely multitasking at all times. We all are," said Christine White, Head of Content, Social & Media, Ulta Beauty. "As we think about advertising experiences, we have to look for ways to engage consumers in the moment. CTA Cards enable the consumer to select the moment they want to be discovering and shopping on their own terms, which enhances their experience."
Spotify's posted announcement is HERE.