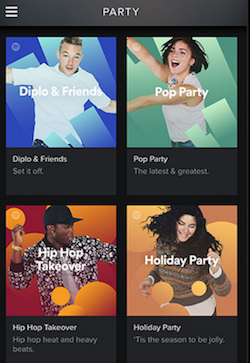 Two developments came from the Spotify camp today. First, the company added a new mobile feature called Party. This section is intended to be a lean-back experience for continual streaming that will set the tone for a party. It offers beat-matching to get seamless transitions between tracks, similar to the Running feature it debuted earlier this year.
The listener just selects a genre or style, then lets the tunes rock. There's even a mood tuner with three energy levels so that the host can adjust the vibe over the course of an evening. Spotify launched the feature with a new playlist of 120 tracks from party DJ extraordinaire Diplo, with the promise of more original mixes to come.
Second, the streaming service has caught Star Wars fever, and created a standalone site aimed at identifying a listener's musical match from the film saga's cast. The site reviews your listening habits and assigns a character based on your most-visited artists. Apparently Luke Skywalker is big on teen pop; who knew?