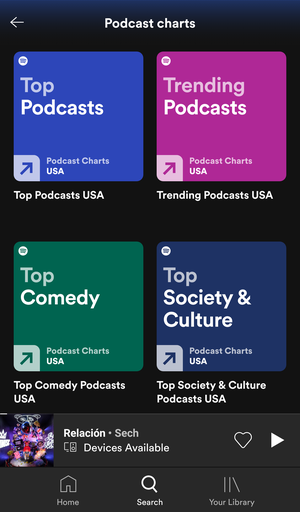 Spotify has offered podcast recommendation lists for a long time. today comes the announcement that the mobile apps (Android and iOS) now feature numbered lists — podcast rankings. The two flagship charts are Top Podcasts and Trending Podcasts — nothing innovative there, as other charting apps do the same (see Chartable's top 200 and trending shows here). Spotify's lists represent Spotify listening, naturally.
The new charts are found by following this chain (in Android): Search > Browse > Podcasts — then look for the "Charts" tile.
Spotify's charts are rolling out today in 26 markets. A selection of those markets (Brazil, Australia, Germany, Mexico, Sweden, the UK, and the U.S.) will separate top podcasts by category. We do see that in our test app — Arts, Business, Comedy, Education, and 13 more.
Top podcast today? The Daily (The New York Times). Likely to be displace in the fall  when The Joe Rogan Experience begins its exclusive relationship with Spotify.
General ranking like this tend to fortify success and compress more success and money at the very top of the pyramid. That said, the lists can also help discover; after all, 200 podcasts is a lot of podcasts, and we doubt even the most addicted podcast listeners keeps up with 200 shows.
The category lists feature 50 shows. That's a healthy number; we peeked into Fiction and discovered how little we know about fiction audio programming. True Crime contained a lot more familiarity.
It's also interesting to see how Spotify's in-app promotional power lifts shows within the networks Spotify has acquired. In the Health & Fitness category list, four of the top five were produced by Spotify Studios, Gimlet, or Parcast.