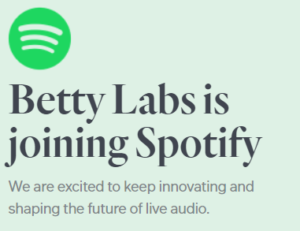 Spotify has announced its acquisition of Betty Labs, a tech startup which build Locker Room, a live audio conversation space for sports fans. The company says the grab will "accelerate Spotify's entry into the live audio space."
Terms of the acquisition are not disclosed.
The natural linkage between Locker Room, which provides an audio conversation space with rooms and stages, to red-hot business conversation app Clubhouse, is hard to ignore. In the company's recent STREAM ON barrage of announcements, Spotify evangelized "future formats of audio," without many specifics. One pertinent statement: "We believe that the best way to build an ecosystem of audio content is to enable its creation, by everyone."
Spotify has waded into group listening with the Group Session feature, where friends jointly control a music playlist in real time. If Betty labs is intended to accelerate that kind of development, we can see it integrating with Anchor for remote collaboration of podcast episodes, or live performance of a podcast interview. It's worth recalling that Anchor started as a social audio app whereby friends left 30-second public audio clips on each other's pages — a kind of audio Facebook. Making that linear experience real-time could be interesting.
Speculation aside, here's how Spotify foretells the future of live audio conversation: "Spotify will evolve and expand Locker Room into an enhanced live audio experience for a wider range of creators and fans. Through this new live experience, Spotify will offer a range of sports, music, and cultural programming, as well as a host of interactive features that enable creators to connect with audiences in real time. We'll give professional athletes, writers, musicians, songwriters, podcasters, and other global voices opportunities to host real-time discussions, debates, ask me anything (AMA) sessions, and more."
Sounds pretty much like an appetite to eat Clubhouse's lunch.
.