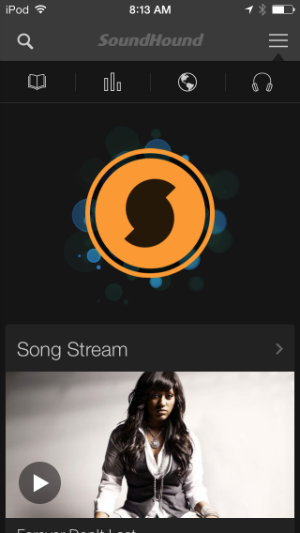 SoundHound announced a relaunch of its popular music-recognition app, which the company calls "the most significant visual change to the app." The design is optimized for iPhone 6 and 6 Plus, and of course is fine in earlier iPhones, and Android phones. We tested the new SoundHound version 6.3 in both environments.
The main difference between the iOS and Android versions is the presence of Beats Music linkage, which is for iOS only. Beats is owned by Apple, of course, and the limitation is probably an Apple/Beats decision. Still, since Beats launched as a platform-agnostic service, and presumably has a good share of Android usage, the inability to invoke Beats Music from within SoundHound might disappoint some. (The newest version of competitor Shazam's Android app does link to Beats.)
If we seem to be making too much of a small point, it's because the thrust-and-parry of external connections is a key point of competition between SoundHound and Shazam. SoundHound's close affiliation with Spotify is an important differentiator, enabling Spotify subscribers to instantly and automatically throw all identified music into a Spotify playlist. That one feature can glue a Spotify loyalist to SoundHound for all music identification needs.
In both apps, a lot happens when a song is identified. One of the main usability changes in SoundHound's relaunch is surfacing song information and next-step listening options more intuitively. Here are the main choices you get in SoundHound after identifying a song:
Play the whole song in Spotify (and auto-add to a playlist for Spotify subscribers)
Play the whole song in Rdio (for subscribers)
Play the whole song in Beats Music (for subscribers, iOS app only)
Start an artist station on iTunes Radio
Start an artist station on Pandora
Watch full videos of the identified song (we saw a large selection for Carrie Underwood's "Good Girl")
Look at a map showing other users in your location who have ID'd the song
Buy the track on iTunes
SoundHound strives to be discovery ecosystems that puts a wide usability perimeter around simple song recognition. SoundHound's new app organizes its portfolio of information and choices better than before, encouraging deeper involvement.
"We have enriched SoundHound's position as the gateway to all-things music, with a relentless focus on making the user experience extraordinary," said James Hom, VP of Product at SoundHound.
Oh — and the orange SoundHound button, which you tap to identify a song, is enhanced with a beautiful bit of animation. We like the improvement.