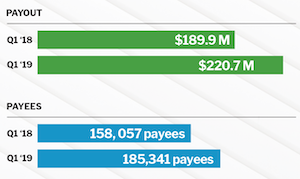 SoundExchange posted its results from the first quarter. Its distributions to artists and copyright holders in the first three months of 2019 totaled $220.7 million, up 16.2% year-on-year. SoundExchange's number of payees also increased 17.3% on-year to 185,000.
During the period, the organization's notable developments included the launch of an Unclaimed Works Portal by its Canadian Musical Reproduction Rights Agency. This portal helps publishers and songwriters to access digital services' data and search for unmatched uses of their repertoire.
Other news included the appointment of Helaine Klasky as SoundExchange's chief communications officer, and CEO and President Mike Huppe listed on Billboard's Power 100 ranking.