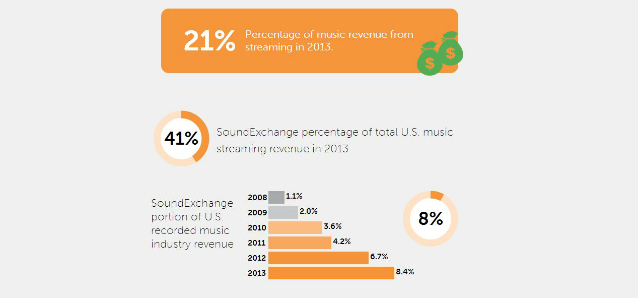 SoundExchange released the first edition of a new quarterly royalty breakdown called Digital Radio Report. SoundExchange is the non-profit performance rights organization (PRO) that collects and distributes music royalties on behalf of recordings artists and music labels. the revenue comes primarily from Satellite and Internet radio; broadcast radio does not pay royalties to artists and labels, except when negotiated directly with label groups.
The Digital Radio Report is an animated infographic that promotes SoundExchange's contribution to the economy of streaming music (plus comedy), and reveals general music-licensing information to demystify how royalties work.
The main focus, and corresponding headline points, is the rapid growth of Internet radio revenue, as viewed through payment trends to artists and labels. Key facts:
SoundExchange paid out $162-million in Q1 of this year. that is a 38% increase from the same quarter last year.
SoundExchange contributes 8.4% of all recorded music revenue in the U.S., and 21% of streaming revenue in 2013.
Over two-billion dollars have been paid out since SoundExchange was formed.
See the entire infographic here, and the SoundExchange blog here.