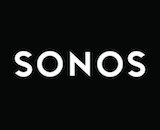 Sonos has released its second-quarter results with a new shareholder letter. The speaker company posted quarterly revenue of $210 million, up 13% on-year. Its net loss shrunk to $23 million compared with $34 million in the same quarter of 2018.
The results included strong performances for a few of Sonos' notable voice-activated wireless speakers. The Sonos Beam home theater speaker saw a 29% on-year jump in revenue, while the Sonos One revenue increased by 14%.
The other notable announcement from Sonos was its plans to begin rolling out support for Google Assistant this week. The integration has been underway for some time following delays, but the update will make Sonos a more viable option for platform-agnostic listening and voice-controlled hardware. For people who don't want to silo their house exclusively into the realm of Amazon, Google, or Apple hardware and software, Sonos may be an attractive choice.