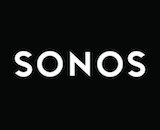 Sonos is making its first foray into content with the launch of a streaming radio service. Sonos Radio is an ad-supported service available for free exclusively for Sonos customers. The platform houses more than 60,000 stations, including ones from streaming partners such as TuneIn and iHeartRadio and ones directly from Sonos.
The programming includes ad-free artist stations curated by performers; the launch includes a playlist from Thom Yorke. Future artist stations will spotlight Brittany Howard (frontwoman of Alabama Shakes), David Byrne, and Third Man Records. Sonos Sound System is another ad-free station with selections from the company spanning new and familiar performers and guest artist radio hours.
The original programming from Sonos will be available to start in the U.S., the UK, Ireland, Canada, and Australia. Support for other markets will come in the future. The partner stations are available for customers worldwide.
"Sonos has always made it easy for customers to discover the riches of streaming music services by building premium products that sound great and by giving customers the freedom to use the services of their choice," Sonos CEO Patrick Spence said. "Sonos Radio brings together streaming radio services and a select set of curated radio stations in a simple, elegant way. This is just a beginning as we work to deliver services that provide our customers a better experience, and provide our music streaming service partners an opportunity to highlight their best content."