Kagan, a research group within S&P Global Market Intelligence, has updated its summary and forecast of smart speaker shipments globally.
Looking at the 2016-2020 period of five years, Kagan's trendline shows meteoric rise in shipments, albeit somewhat slowing from 2019 to 2020: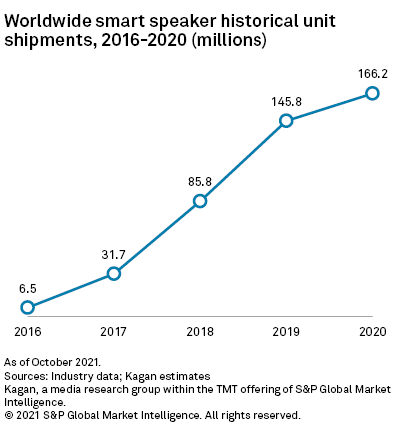 "Amazon, with its Echo smart speaker product line, was again the leading vendor of smart speakers in 2020," Kagan notes.
Looking to the future, Kagan estimates that the the full year of 2021 will see another gain from 166-million to 186-million, a 12% gain — about the same as the previous year-over-year.
Amazon's Alexa platform was the leader in shipments in 2020, with 22%. Google's Nest line accounted for 18%. In the Chinese market, Kagan says smart speakers "remain quite popular," with Abidu, Alibaba, and Xiaomi the leading brands.
.