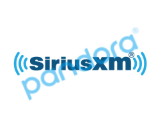 Sirius XM and Pandora have announced a content crossover which brings Sirius talk shows into Pandora aspodcasts. Beginning now, about two dozen talk shows from Sirius XM are available in Pandora. Shows across several topics will be making the leap, including programs helmed by Kevin Hart, Ricky Gervais, Hoda Kotb, and Christopher "Mad Dog" Russo.
This initiative was first hinted by Sirius CEO Jim Meyers in the company's Q1 earnings call, and is intended to "synergize" (an overused M&A term that is truly applicable here) share content and data between the largely unduplicated audiences of Sirius XM and Pandora.
The full lineup of Sirius shows becoming Pandora podcasts is:
Jim Norton & Sam Roberts Interviews
Larry the Cable Guy Weekly Roundup
Ricky Gervais Is Deadly Sirius
Straight from The Hart with Kevin Hart
Unmasked with Ron Bennington
A Comic Mind Hosted By Jeff Foxworthy
Andy Cohen Deep & Shallow Interviews
Sway in the Morning
Jenny McCarthy's Celebrity Dirt
Debatable with Mark Goodman and Alan Light
Feedback with Nik Carter and Lori Majewski
Jeff Lewis Rants
The Hoda Show
Reality Checked: News & Feuds with Amy Phillips
The Jason Ellis Show
Entertainment Weekly Celebrity Spotlight
Michelle Collins Pops the Question
Joel Osteen Radio
Trunk Nation with Eddie Trunk
Busted Open
Mad Dog Unleashed
Schein on Sports
In our initial testing in Pandora's Android app, and in the web browser version, we could not find or play the titles we searched for, using Pandora's standard search feature. A query to the company brought forward this mobile link (NOTE: mobile only, and Pandora's entire podcast venture is currently playing on mobile only). In an Android phone equipped with the Pandora app, the link delivers a directory of Sirius XM talk programs available for Pandora play.
This tie-in increases adds a bit to the content available via the Podcasts on Pandora platform, which rolled out in December 2018. It is the second move to bring content from one audio platform to the other following Sirius' acquisition of Pandora last year. The duo rolled out an interactive channel called Pandora NOW earlier this month, but the Sirius XM podcasts is a simpler approach to uniting Sirius XM's radio programming with Pandora's online audience.