Edison Research has been operating its landmark Share of Ear Study for nine years. (RAIN coverage of the launch HERE.) The full service is for subscribers, but Edison releases a summary graphic with each iteration of the survey.
Looking back at the first release, and comparing it to the most recent (Q2 2023), reveals the dramatic tidal shifts in time spent listening to different audio categories among American adults and teens.
Here is the throwback: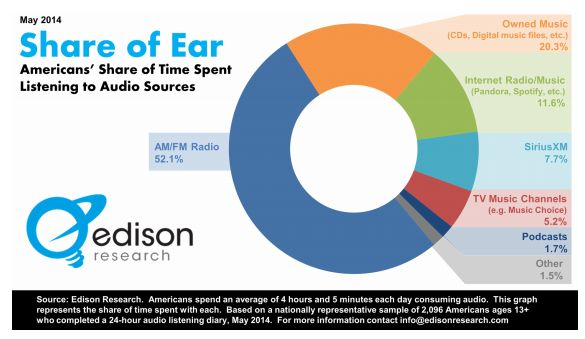 We might expect AM/FM listening to erode somewhat during this span of time, and it has. Radio advocates will correctly assert that time spent is entirely different from reach, and that AM/FM maintains a monumental percentage of Americans. And that is true, according to Nielsen Media Research as reported by Pew Research.
When it comes to time spent, AM/FM dropped from about 52% share to 36% — still the largest source of share. Below is the most recent Edison report summary: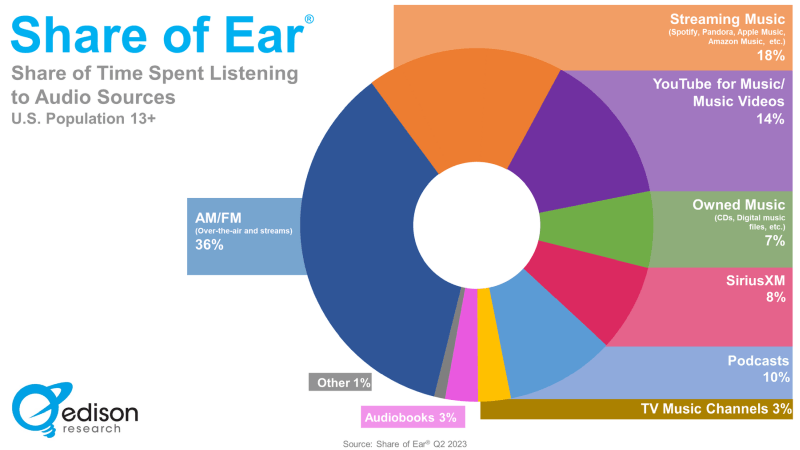 Streaming music has jumped from 11.6% to 18% of Americans' listening time. But the most dramatic shift of time belongs to podcasting, which has emerged from 1.7% of share in 2014 to 10% now.  No doubt the format benefits from programming length; consider that a single episode of The Joe Rogan Experience, deemed by Edison's rankers as the most popular show, can soak up two or more hours per episode. A more normalized podcast length is 30 minutes, which can handily replace listening to the radio while preparing dinner.
Another consideration is that AM/FM listening is not traditionally a mobile experience consumed on a phone, as podcasts are.
We look forward to observing how these trends evolve into the future.
---