Radio and stream aggregator TuneIn, and leading music-ID app Shazam, both announced new integrations with Google Now, an Android feature that resembles Apple's Siri. On Android phones, swiping the screen and intoning "OK Google" brings up a smart (well, somewhat) app that can perform searches, make phone calls, and other tasks — all informed by google's knowledge of the user. It also delivers relevant news and notifications, without the voice command.

TuneIn announced yesterday that its program notifications can be delivered to Google Now. For example, if the user follows a podcast that produces weekly episodes. Google Now can notify when an episode is up for listening.
"No matter where you happen to be, if you have the TuneIn app installed, just tap the Google app icon on your Android device to start seeing helpful cards," TuneIn said. "You'll soon start to see suggestions for new stations to check out and new episodes to listen to for the shows and podcasts you follow on TuneIn."
TuneIn is also in Android Wear devices, Android Auto, and Chromecast.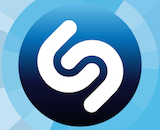 Today we also received a Shazam notification with the header, "OK Google, Shazam this Song." Users need to update their Google App and Shazam apps for the feature to work.
Shazam's innovation is a convenience. Music identification sometimes depends on quick actions — opening an app like Shazam, tapping a "listen" button, and waiting for results. The first two steps are much hastened along with Android's swipe-and-speak feature. the idea is in synch with Shazam's Apple Watch integration, where tapping your wrist a couple of times replaces digging the phone out of your pocket and opening an app.