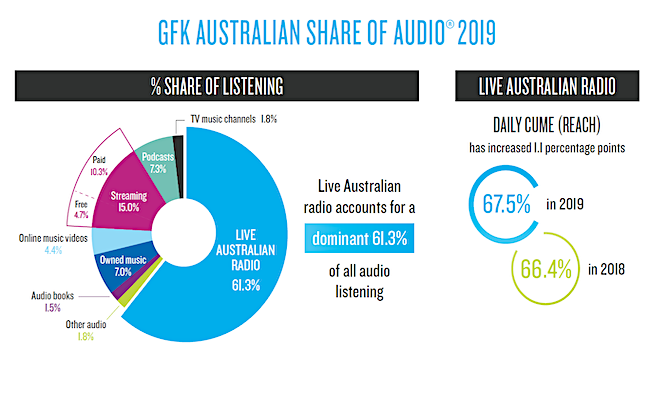 Live radio is still the leading audio format in Australia, but its dominance has declined slightly from last year. That's a key finding from the fourth annual GfK Share of Audio survey from Commercial Radio Australia, which tracks listening habits and trends for Australian audiences. The survey found that live radio is responsible for a 61.3% share of all audio listening, down from 62.3% in the 2018 report.
All forms of streaming generated a 15% share. Paid streaming had a share of 10.3%, which was the second-largest amount even without the addition of the 4.7% share from free streaming.
Podcasts took a 7.3% share of the 2019 total, leaping up from just 3.8% last year. Owned music libraries, including both physical formats and digital downloads, were only responsible for 7% of listening. That share came down from 8.6% in 2018.
Australians spend an average of 3 hours, 28 minutes listening to audio every day, a small increase of 7 minutes over the 2018 result. Average daily time listening to radio also edged up 2 minutes from last year to 2 hours, 7 minutes. Music streaming was responsible for 31 minutes of average daily listening.
"We've seen an overall resurgence of audio with radio staying dominant and podcast listening enjoying a big jump," said Joan Warner of Commercial Radio Australia. "For the first time in history, consumers are spending more time listening to podcasts than to their own music collections."