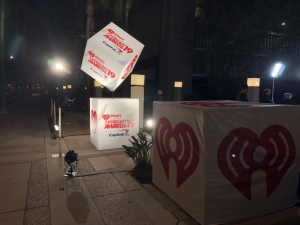 iHeartMedia is taking advantage of International Podcast Day (which is today) to announce the return of the iHeartRadio Podcast Awards. Second year for this event, which is staged at the iHeartRadio Theater in Los Angeles. The date is Friday, January 17. The glamour event will be broadcast and streamed live on iHM properties nationwide.
Thirty categories will be represented in this second edition of the award program, "celebrating the incredible talent and wide variety of leaders across the booming podcasting industry."
RAIN's Anna Washenko covered the event live in 2019, when Slow Burn won the top award for Podcast of the Year. Other honors bestowed included Up and Vanished for Best Crime Podcast; The Joe Rogan Experience for Best Comedy Podcast (this mostly serious interview show usually categorized wrong in our opinion); Marc Smerling, host of Crimetown and The RFK Tapes, for Podcast Innovator; Fantasy Footballers for Best Sports Podcast; and Dax Shepard and Monica Padman of Armchair Expert for Breakout Podcast of the Year, among many other categories and winners.
"The podcasting landscape has truly grown and is now reaching a mainstream audience," said Anya Grundmann, Senior Vice President for Programming and Audience Development at NPR. "As a 'Podcast Pioneer' we are thrilled to see the range of terrific new programs out there and excited that iHeart has created such a powerful platform to showcase standout shows."