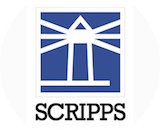 E.W. Scripps hosted its earnings call for the third quarter of 2017, which included updates for podcasting business Midroll Media. The media company posted revenue of $216 million, down from $233 million in the year-ago period. Net loss was $26.7 million, or 32 cents per share, while Scripps saw net income of $12.5 million, or 15 cents per share, in Q3 2016. The losses included an impairment charge of $35.7 million around the comedy property Cracked. Digital revenue, which includes Midroll, was up 13.3% to $17.8 million.
On the call, Scripps President and CEO Adam Symson said that Midroll's ad inventory growth during the period was strong, with advertising impressions of 1.3 billion in the quarter, up from 1 billion in Q2. Midroll did see a slower advertiser demand in July and August, but Symson noted that the dip was partly due to wider trends in national advertising over the summer. "Midroll did see sales rebound in September and we're looking forward to a strong end of the year," he said.
Scripps acquired Midroll Media in July 2015.