The Salem Media Group, a media holding company comprising radio, book publishing, and digital media, has announced the start of a new podcast network. The focus will be conservative content across its definitional "Christian and conservative media landscape."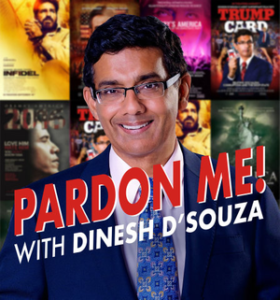 The launch show is called Pardon Me!, hosted by Dinesh D'Souza. Salem is promoting its lineup of talk hosts — Hugh Hewitt, Mike Gallagher, Dennis Prager, Charlie Kirk, Sebastian Gorka, Larry Elder, Eric Metaxas, and Dan Proft — and it's easy to imagine that some of those names will soon be announced as freshly minted podcast hosts.
"I'm excited about my new podcast," said Dinesh D'Souza. "We'll focus on politics but also feature themes from history, philosophy, literature and religion. I'm thrilled to be partnering with Salem to get this podcast out to the widest possible audience."
Salem is also announcing the addition of Marcus Brown as Director of Content Strategy for the Salem Podcast Network. Brown is currently Program Director at AM 560 The Answer and AM 1160 Hope For Your Life in Chicago and will continue in those roles.
"Salem's brand of podcasting will remain consistent with what Salem is best known for — content that approaches the issues through a biblical world view and a politically conservative lens," said Salem's Broadcast Division President Dave Santrella. "Podcast listeners will know that when they come to the Salem Podcast Network, they'll find content that addresses the issues they care most about."
.