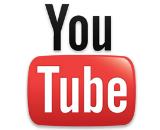 YouTube Music Key entered its beta almost a year ago, and since then, we've been waiting to see when Google's video platform would make its official entrance into the field of paying music services. In the interim, there has been plenty of attention on every minor hint about when and how that launch will happen. The latest sign seems to point to the date being later this fall.
Re/code has the scoop on an email sent to content owners on YouTube, which allegedly informed them to accept new terms by Oct. 22. If they fail to do so, the email stated that their "videos will no longer be available for public display or monetization in the United States."
These new terms appear to cover both the Music Key concept and a paid subscription for access to all YouTube videos without seeing ads. We have yet to see what the latter part of the new YouTube could look like or how it will integrate with the music-focused elements. Our coverage from July goes into some depth about these developments and what it all means for artists, labels, and listeners. But perhaps we won't be waiting much longer to see the final product.