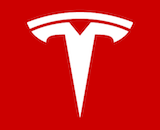 Car manufacturer Tesla is reportedly considering the creation of its own streaming music service. Recode picked up the story, reporting that Tesla has had talks with the three major labels about licensing for a proprietary music platform. Sources have not disclosed the extent of Tesla's music ambitions, but most likely a music service would be available exclusively in the manufacturers' electric cars.
Connected cars have been a growing trend for some time, but given the availability of in-vehicle listening options, a move by Tesla to make its own niche platform has raised eyebrows.
"We believe it's important to have an exceptional in-car experience so our customers can listen to the music they want from whatever source they choose," a Tesla spokesperson said. "Our goal is to simply achieve maximum happiness for our customers."
Tesla cars are a boutique product, with the company posting less than 100,000 vehicles sold in 2016 (contrasted with the 10 million sold by GM). But the cost of making a proprietary music service may still be pocket change for the business run by Elon Musk, whose net worth was most recently pegged at over $13 billion.