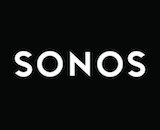 Sonos may be looking to diversify its product lineup beyond speakers. Sources told Bloomberg that the company is developing high-end, wireless, over-the-ear headphones. As with its smart speakers, the new headphones would reportedly take an agnostic approach, supporting multiple music services and digital assistants. Laura Morarity, Sonos' spokeswoman, said the company doesn't comment on its future product plans, so this remains a speculative update for the audio brand.
In its fourth quarter shareholder letter, Sonos noted that it would be looking to explore experiences beyond at-home listening. Wireless headphones certainly fit that bill. The earnings report included some very strong figures for the Sonos Beam smart speaker. The company doubled down on its path of delivering quality in audio and design rather than following the trend of cheaper, puck-sized smart speakers that have been generating successes on the market thus far.
Sonos is still working toward adding support for a second voice AI platform on its hardware lineup. Its smart speakers already work with Amazon Alexa, and the company demoed the latest developments in syncing with Google Assistant at CES this month.