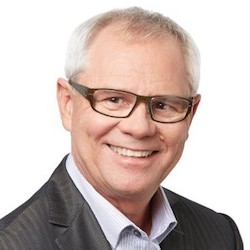 Rick Brace is stepping down from the helm of Rogers Media after serving as the company's president since 2015. He will retire at the end of the year. Brace will be succeeded by Jordan Banks in the president role, effective September 9. Rogers Media's holdings include 56 radio stations, 29 local TV stations, and 23 conventional and specialty television stations across Canada.
"I am incredibly proud of our team and what we have achieved together," Brace said. "I have accomplished what I set out to do and I leave Rogers Media knowing the business is in great hands with Jordan and the team."
"I am thrilled to join such an iconic Canadian company with its incredible breadth and depth of sports and media assets," said Banks. "I am honoured and excited to build on Rick's legacy and look forward to working with the team to drive the next wave of growth across our sports and media businesses."
Banks was the co-founder of Thunder Road Capital. He was previously the managing director for Facebook and Instagram Canada. He has also held roles at eBay Canada and was CEO at a global sports IPTV company prior to joining the social network.