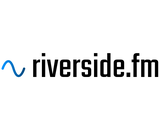 Riverside, the remote video production platform increasingly used by audio podcasters, has completed a $35-million fundraising round. The investment is led by Oren Zeev (early investor in Audible and many other startups).
Riverside's central marketing message is high-resolution video and audio. The audio quality is one reason podcasters use it for recording interviews. Guy Raz ("ONe of the most popular podcasters in history," New York Times) is an evangelizing spokesperson for Riverside. In addition to recording at high bit rates (48kHz WAV), Riverside separates speaker audio tracks, enabling more exact editing that is possible with single-track files.
Total funding raised by Riverside is now at $47-million according to TechCrunch.
Riverside was founded by brothers Gideon and Nadav Keyson, who immigrated to Israel from the Netherlands. The Riverside.fm website showcases a "used and trusted" logo cluster which includes Microsoft, Verizon Media, iHeartMedia, The New York Times, TED, NPR, and others.
Recently, Spotify announced a partnership with Riverside to enable podcast video production, dramatically spotlighting the company's features and reputation.