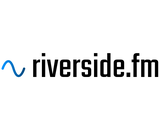 Tel Aviv-based Riverside.FM, a browser-based recording studio that offers fluent interplay of audio and video, raised $9.5-million in a round led by Alexis Ohanian's Seven Seven Six. Participating investors include Zeev-ventures.com, Casey Neistat, Guy Raz, Elad Gil, Alexander Klöpping.
We see on the company website a declared intention to double staff from 20 to 40 in 2021. Open job listings a-plenty can be seen HERE.
Riverside emerged from startup stealth mode last November, funded by Oren Zeed, after the company founding in March 2020. It quickly gained  attention as a video+audio recording and livestream platform for podcasters, with a specialty of hi-rez recording of audio and video in separate tracks. Company clients include Disney, Fox Sports, Marvel, TechCrunch and former Secretary of State Hillary Clinton.
Riverside has also just released new features:
Magic Editor: this new editing feature simplifies and merges the independent processes of recording, editing and uploading into one step. Until now it's only been possible for producers to complete each step individually, but Riverside.fm's magic editor automates the process and significantly reduces the time typically spent from recording to finally publishing.
Smart Speakerview: Unlike conferencing tools that spottily pan the camera to the current speaker during live calls, Riverside.fm is the first platform to analyze based on the final recorded session and is programmed to automatically switch video to the appropriate person speaking in a perfect manner. For example, Riverside will not switch the camera should someone sneeze or cough during a live call, but based on the final recorded result, knows to switch views to a person speaking for a decent amount of time. Additionally, the technology enables panning one second before a person actually starts speaking, ensuring smooth transitions.
iPhone App: Riverside.fm's new iPhone app is the first iOS app to record and upload audio and video at the same time. As one records, footage simultaneously uploads to the cloud and the recording is downloadable instantly.
"The platform my brother and I introduced has become the optimal technology for recording and publishing consumable audio-video content remotely" said Co-founder and CEO Nadav Keyson. "Riverside's local recording engines are immune to bad internet connections and the technology enables interviewers, who are now increasingly recording and producing from their own homes, to look and sound like they're using a million dollar studio. We've outfitted the platform with user-friendliness that's easy to understand and with efficient capabilities that expedite the recording, producing and publishing processes like no platform has ever done before."
"I've been saying it since the start of the pandemic–we witnessed five years of innovation condensed into five months—and Riverside.fm is one of the brightest examples of this acceleration," said Alexis Ohanian, Founder of Seven Seven Six. "As many were forced to adapt to remote work and production teams struggled to deliver the same in person quality, from a distance—Gideon and Nadav saw an opportunity to not only solve a great need for creators, but to build an extraordinary product.  As a creator myself, I can say from experience that Riverside's quality is unmatched and the new editing capabilities are peerless. That's remarkable on its own, but when you factor in how quickly they built it… this is a company to watch."
.