The RIAA released its 2019 year-end report, marking a fourth consecutive year of double-digit growth thanks to increases in subscription streaming. Streaming is now delivering nearly 80% of all recorded music revenue, holding steady at the share it delivered in the first half of the year.
The year saw U.S. recorded music revenue reach $11.1 billion at retail value, up 13% from $9.8 billion in 2018. The final result did fall short of the $10 billion forecast by the $5.4 billion the RIAA reported in its H1 report.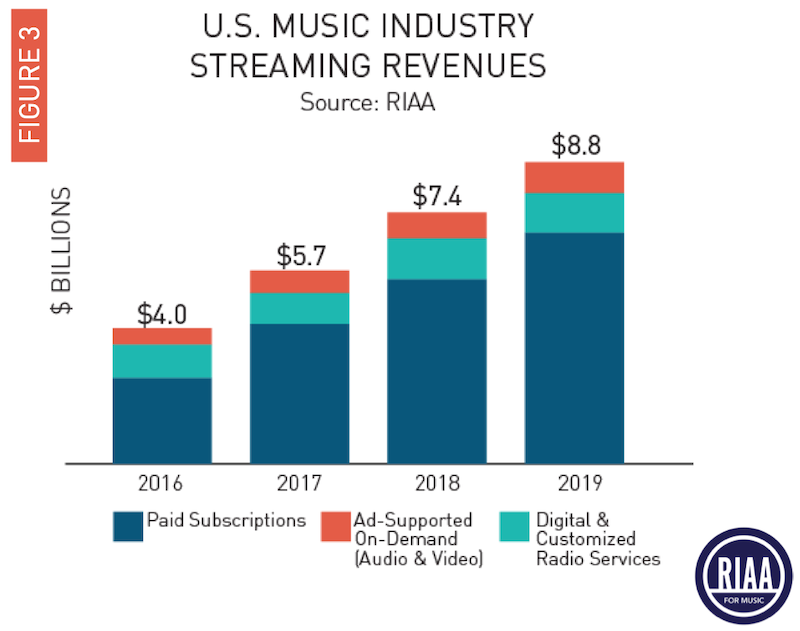 Streaming revenue grew 19.9% to $8.8 billion for the year. The figure marked 79.5% of annual recorded music revenue in the U.S. The RIAA noted that the streaming revenue total from 2019 was larger than the entire U.S. recorded music market in 2017.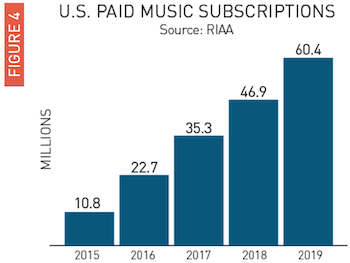 Subscriptions are still the lion's share of that streaming total, representing 61% of all U.S. recorded music revenue at $6.8 billion. The segment grew 25% over 2018, demonstrating that the country still has not reached its saturation point for music subscriptions. The RIAA found that the U.S. had 29% growth in the number of on-demand subscriptions, reaching an average of 60.4 million.
Within the subscription umbrella, $829 million of revenue came from "limited tier" access. This service tier includes restricted paid subscriptions such as Amazon Prime and Pandora Plus. These listeners are not counted in the 60.4 million subscriptions.
Ad-supported streaming remains a small segment of the field, responsible for 8% of the year's recorded music total. In 2019, revenue from these sources grew 20% to $908 million.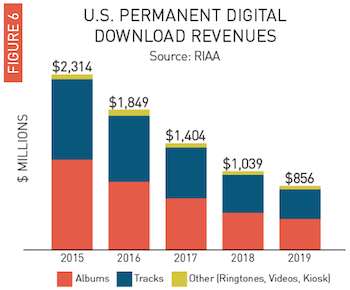 Digital and customized radio services saw a dip in revenue, from $1.2 billion in 2018 to $1.16 billion in 2019. This portion included SoundExchange distributions, which declined 5% to $908 million.
Both digital downloads and physical formats continued to post decreased revenue. Digital download revenue dropped below $1 billion for the first time since 2006, with an 18% decline to $856 million. Album download revenue posted a drop of 21%, while track download revenue dropped 15%. The declines were less severe for physical formats, which saw just an 0.6% dip in total revenue. CD revenue fell 12%, while vinyl posted a fourteenth year of growth thanks to a 19% increase. The $504 million from vinyl is the largest revenue for that format since 1988, but is still just a 4.5% of the recorded music total.