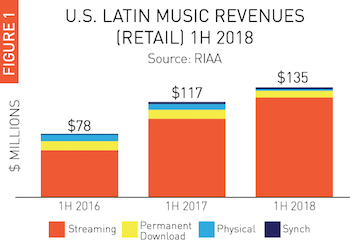 The RIAA has released its half-year report on the Latin music market in the U.S., and the analysis echoes the same trends as the group's H1 assessment of the overall music industry. Revenue from Latin music grew 15% on-year to $135 million. Streaming represents nearly all of that total, and was responsible for 91% of the Latin market.
Paid subscriptions were the majority of the streaming money with a 59% share. The $72 million from paid subscriptions marked a 70% increase from the same period of 2017. Ad-supported on-demand had 21% of streaming revenue, with a 30% on-year increase to $26 million. The remaining 20% of streaming revenue for the period was generated by digital and customized radio.
In all of 2017, Latin music delivered streaming revenue of $204 million and overall revenue of $243 million in the United States. The genre is on track to surpass lass year's figures as subscription revenue figures continue to spiral higher.