In its most important structural change in years, and a meaningful expansion of its business model, on-demand music service Rhapsody has announced unRadio, and added the new listening experience to all its apps. unRadio is integrated with Rhapsody Premier, the long-standing monthly subscription plan ($9.99/month), and also offered as a stand-alone service for half the cost ($4.99/month).
At the same time, Rhapsody is starting a partnership with T-Mobile, wherein unRadio is available free of charge to T-Mobile wireless cell-phone customers. The T-Mobile deal will certainly provide leverage for attracting new users and spreading recognition of the Rhapsody brand, which resides in the shadow of Spotify, Pandora, iTunes Radio, and Beats Music in the brand-awareness sweepstakes.
T-Mobile's own branding maneuver as the "Uncarrier" wireless company apparently inspired the unRadio name.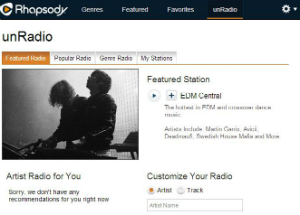 As a stand-alone service, whether through T-Mobile or not, unRadio shrewdly combines lean-back listening, similar to Pandora, with on-demand interactivity, similar to Spotify and Rhapsody's own Premier plan. To create the listening platform, Rhapsody simply carved out its existing Radio service, which consists of curated playlists created by Rhapsody staff and users, and bundled that entire portion classic Rhapsody into unRadio. Enhanced Premier features such as creating playlists and downloading music for offline listening, are not included in the half-price unRadio plan.
Significantly, unRadio does include one enhancement missing in Pandora, whose Pandora One monthly payment plan is also priced at $4.99 — unRadio users can "favorite" any track in any stream, and listen to saved tracks on demand. This clear differentiator contrasts with Pandora's more limited "Bookmark" feature which enables keeping a list of favorite tracks, then listening to 30-second excerpts on demand (as tested recently in the Android app).
unRadio is an ad-free experience, as is Pandora One. Rhapsody, which was born as a subscription service in 2001 and has never provided cost-free listening, does not sell advertising. Pandora, by contrast, serves its ad-supported listening, modeled on broadcast radio, to nearly all of its 77-million active users.
Spotify, a leading on-demand music platform, must look closely at Rhapsody's gambit, too. Rhapsody is effectively straddling the gulf between free listening supported by advertising, and the full interactivity of a celestial music jukebox, which is generally priced at $10/month throughout the industry. Adding a touch of interactivity (playing saved songs on demand), while undercutting the price of full interactivity, might hit a sweet spot for a certain class of music-lover.
Judging by unRadio marketing, that is what Rhapsody hopes for: "Rhapsody unRadio is radio reborn. Freedom to listen to and save any song or artist, it's the first online radio experience that truly sets music free."