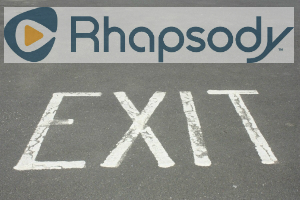 The exodus of high-profile music services from music-technology provider The Echo Nest picked up momentum today as music service Rhapsody and its subsidiary Napster announced that they will "wind down" their partnerships. The Echo Nest was recently acquired by former client Spotify; almost immediately, Rdio CEO Anthony Bay announced that Rdio would no longer use The Echo Nest technology to power its music recommendations and dynamically generated playlists.
The day after Spotify's acquisition, The Echo Nest CEO Jim Lucchese told RAIN that his company would honor all existing business relationships, and that its API (which allows customization of The Echo Nest's technology platform) would remain open and available. Based on that information, the impetus driving Rdio, Rhapsody, and Napster to separate certainly comes from those companies, and not from any cut-off on The Echo Nest's side.
The issues is likely competitive between Spotify and The Echo Nest's clients, many of which might be understandably reluctant to continue sharing user data with The Echo Nest, now that it is a wholly-owned subsidiary of Spotify.