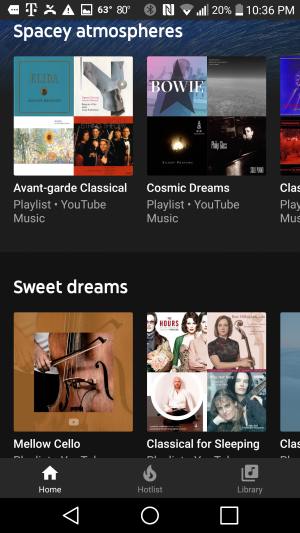 YouTube Music launched two weeks ago — a relaunch, actually, carrying with it a new subscription lineup for Google's suite of streaming audio products. The new YouTube Music app has been rolling out gradually through the vast population of Android users. As before, subscribing to the music subset of YouTube costs $10/month, which removes commercials and provides downloading for offline listening.
That might sound like a clone of the standard subscription model for on-demand music, and it is. YouTube's great differentiator is the immense catalog of user-uploaded content such as concert vids and whole-album uploads with on-demand track timings.
So, in reviewing the new experience, two questions hold forth:
How does the redesigned app look and feel?
How well does YouTube surface the deep layers of unique music recordings for which it is famous?
Quick TL;DR answers: Great, and not so much.
Design
The new app is gorgeous. It is staggering to a long-time YouTube user to encounter a beautiful, easily navigable YouTube interface. It differs from the gnarly YouTube UX jungle as a spring meadow differs from Times Square. The colorful screens borrow some aesthetic from Spotify and Pandora, to be sure. Like Spotify, colorful square panels display playlists the service thinks you'll like (assuming you've used YouTube a fair amount). Like Pandora, you cannot swipe left to skip tracks — an odd rejection of standard smartphone navigation that both companies could address. When YouTube Music is in track list mode, you cannot see which track is playing — it is not highlighted in any way. We're willing to call that a design bug.
Performance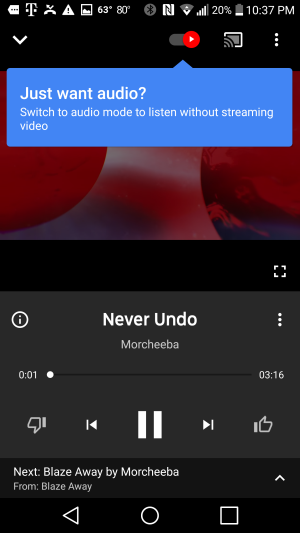 Streaming performance has ranged from excellent to mildly annoying in our testing. This is video, after all, but that is YouTube's problem to solve, not the user's burden to withstand. Helpfully, you can turn off video globally, and stream audio by itself. That would be especially helpful when downloading and when counting data, and really at all times in a service which emulates pure music platforms. YouTube Music is designed for lean-back listening. When using the app as radio, there is no point to video at all.
While on the subject of lean-back listening, which usually means eyes off the screen and phone multitasking, Google does offer continued play when the app is in the background — but only to subscribers. This is preposterous. Continued playback while using other audio apps is not a premium feature. It is standard app development. Your streaming podcasts don't stop when you shift into email. No other music service stops playing when you take a picture, or look at Facebook, or read this article. YouTube's own desktop browser app doesn't operate that way. YouTube Music is largely useless without normal continuous playback. As such, it feels like a coercion to subscribe. This one point makes it impossible to recommend the YouTube Music app to non-subscribers.
The Music
The app comes stocked with an impressive amount of music curation. YouTube has seriously raised its game, in volume and quantity, since the first issue at a YouTube Music carve-out. (That was in November, 2015.) We've seen some humor at play — an "All the Feelings" category contains playlists like Classical for Sobbing.
As we tried the recommendations, and tested the search engine, and allowed the app to auto-generate continued lean-back listening customized to our taste, a disturbing feeling grew … that this was a normal on-demand music service. We were not given any of the juicy nontraditional stuff, the user uploads, the off-album concert recordings. YouTube Music feels like it is trying to fit into the existing mold instead of creating its own mold.
Upshot
If lean-back listening doesn't differentiate enough from other, better established music services, the lean-in experience does. Lean into the app (don't switch to email!), search for things, explore beyond the label-provided content, and you get the deep discovery YouTube is best at. And now it's wrapped in a an app with modern design and pretty good usability. That might be the biggest milestone of this release: YouTube has finally made an attractive user interface.