The much-anticipated Beats Music on-demand subscription service launched today, following a long build-up with anticipatory marketing. (See our preview here.) We tested Beats Music in three venues: iPod (5th-generation), iPad 2, and the web app in Chrome browser. We did not find an Android version in many searches of the Google Play store over eight hours, using both a Nexus phone and an LG tablet.
Beats Music positioned itself in advance, emphasizing celebrity playlists and effortless listening to "the right song at the right time." With that preparation, we expected concierge-style music delivery (all the rage in other services, too) and unique musical adventures.
First Contact
To deliver on its personalization promise, Beats has to get acquainted with the user's general taste in music. The Beats experience starts with genre bubbles that float on the screen. Touching and tapping makes then disappear or expand. We don't particularly like music targeting based on genre preferences, but recognize that it's inevitable and is agreeable to many users who just like Country, Classical, or whatever. Anyway, there's no avoiding it here, and the bubbly interface is fun. We expanded a bunch of them.
In this process, the selection of genres seemed insufficient and sometimes bizarre. The Folk/Blues mashup genre was the most disagreeable to our sensibilities. More on that, and Beats' handling of genres, later.
After signaling your genre choices, Beats puts some artists and bands on the screen. This part seemed frankly ridiculous, as the choices ended after two screens and only a handful of selections. Eric Clapton? Sure. Bob James? Eh … but we had to make selections, with the trust that some algorithmic secret sauce would amaze us later.
Serving it up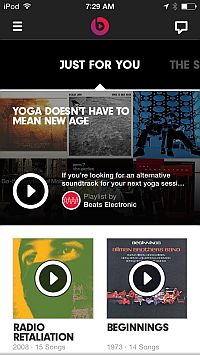 After that meet-and-greet with Beats Music computer logic, the JUST FOR YOU section comes into view with the first music offerings. Be sure to scroll down here, because this is where the service starts to deliver the Beatsy goodness advertised in the advance marketing.
We were intrigued by this playlist: "Yoga Doesn't Have to Mean New Age." That's true — let's hear it!
Strange and alluring soundscapes emanated from Aphex Twin, Nicoloas Jaar, Sofa Surfers, and others. True to the playlist promise, this was meditative music with a pulse, not air pudding. We were pounding the heart icon, indicating approval and shaping the platform's future selections. However, we also heard tracks with lyrics, and even one with extensive spoken-word segments with explicit sexual content. That seemed like unwise programming in a playlist that could be used in a yoga or meditation group. Was this really human decision-making, or an algorithmic misstep? Later in the list, we heard a track from Nightmares on Wax, sounding more like background to Halloween than yoga. This playlist was exhibiting an odd degradation phenomenon we've experienced in other services — starts off great, but goes off track. Suddenly we were pounding the skip button.
All Beats playlists are shown with agreeable transparency — you can view the whole list and cherry-pick, if you're in a picky mood. In addition to that DJ functionality, you can pluck tracks from the list to insert in your own playlists, or save in your phone for offline listening. Beats seems to put a value on a playlist length of 10-20 songs, perhaps as an indicator of connoisseur value. We didn't think the selection quality bore out that presumption. In the "Best of 60s Psychedelic Pop" playlist, for example, we found too much emphasis on obscure selections, rather than best ones. If you're going to include The Monkees, can't you find a better track than Head: Porpoise Song?
Artist Stations
There aren't any artist stations. You can't make them. Beats cedes this space entirely to Pandora and other services with create-your-own stations based on a band or a song. So, that important dimension of music discovery is ignored by Beats in favor of its own expert station-making. It's a strategic choice, perhaps a disagreeable omission to lean-forward customers, but probably won't be missed by anyone who dislikes having to make decisions to get the music started.
We still wanted to test the associations made by Beats among artists. We called up blues rocker Walter Trout, whom we use as a benchmark for comparison of all services. Could Beats help us discover soul-stirring music aside from well-worn associations with obvious brethren like Jeff Healey, Eric Clapton, and Albert Cummings? A glance at the Similar Artists page covered the obvious stalwarts, and also presented names we didn't know. Nice. Only 16 recommendations in all, though, which feels less like a full meal, and more like a juice fast. Why so few? We get the point — Beats Music isn't about digging deep on your own. It's about enjoying the deep digs of house curators.

The Sentence
Beats Music's most publicized screen is the place/mood/genre concierge-style feature which Hypebot delightfully characterized as "I want to hear blank while I'm blanking in the blankety blank." Beats names this interaction The Sentence. You fill in the blanks and hit Play New Sentence. We love it that it's called a sentence. Let's see how it works.
It's nonsensical if you take The Sentence literally, which is clearly not the point. We started by constructing the following: I'm at work and feel like driving with my family to alt rock. This unusual fantasy delivered The Sugarcubes, Orange Juice, The Mountain Goats, Saint Etienne, Sloan, and Peter Murphy. All good. But that was easy.
We started a new sentence: I'm on a rooftop and feel like being blue with strangers to smooth jazz. Putting smooth jazz in a near-suicidal context is a cruel test of Beats' concierge skill, but hey, it was presented as an option. The sentence yielded some perky George Benson, Joe Sample, a sentiment-drenched song by Gregg Karukas, a flagrant party track from Bob James (probably because of the bubbles), a piece by the always-sensual Najee (but certainly not his bluest), and Eric Marienthal's classic "Mercy, Mercy, Mercy," which we find more inspirational than self-pitying. The list was partially successful, with one standout failure.
We can do this all day, but just one more. I'm in a field and feel like starting a riot with robots to soft rock. Bring it, Beats — sort out that contradictory tangle! We heard "Mama" by Genesis (great start!), "Evil Woman" by The Doobie Brothers (there's a certain logic there), Toto's Dying On My Feet, The Eagles' Victim Of Love, Don Henley's How Bad Do You Want It? and Billy Joel's Sometimes A Fantasy. Beats was too swayed by our avowed liking of classic rock (the bubble influence), but we felt properly motivated toward bad android behavior. Impressive concierge success.
We couldn't find a way to save a Sentence, which we wished for.
Soundtracks for Activities
The Sentence is great fun, but requires a lot of choosing. For a quicker and more basic soundtrack experience, Beats provides Activities in the FIND IT section. There, instead of climbing onto a rooftop with strangers, you can just choose Being Blue. Or Breaking Up, though your soon-ex might not appreciate you fiddling with your phone during a moment of such vulnerability. Dancing, Drinking, Punching Walls (ouch), Romancing (again, put down the phone), Waking Up, Working, many others. Each activity has at least 15 playlists. Examining the content is a letdown — as with some other concierge services, the choices appear to be driven by database tags, not honest curation. Yes, one might want to hear Jukebox Hits: 70s Soft Rock while working, but it's not endemic to any particular setting and we easily found that playlist again in other activities. Hell, you could use it to break up. If you're going to make somebody hate you, might as well give them every reason.
There's nothing wrong with this level of generic curation — it has become common in the big services. But finding it in Beats, which is purportedly all about fine-tuned expertise, is depressing, and underlies an industry reality: The general-listener services are mostly identical, with minor specialties that are important to hard-core users.
The Experts
Also located in the FIND IT section, the Curators list is the pride of Beasts Music, and where the most original content resides. Go there. We found none of the rote curation that's apparent when you're starting and the service is not yet customized around your reactions. Contributors include Alternative Press, AMP Radio, Decibel Magazine, Ellen DeGeneres (!), Equinox, Grand Ole Opry, Naxos, PopCrush, Revolver, Target (oh, brother), and many others. We hope this meaty list grows, because this section is absorbing.
Even so, the weird short-playlist phenomenon is on full display here. Does Beats doubt the attention spans of its users? Does it want us to be constantly referring back to the app to reset the music, which would be annoying? There is lack of completion in some cases, as with the "Top 100 Black Metal LPs" list … which contains six tracks. We think that in this case, and others, curators failed to meet their commitments. But throughout Beats Music, we're perplexed by tiny playlists and we hope for future listening experiences that last longer.
Searching
Beats Music is an on-demand service, supported by basic searching. Presentation of search results is well-organized and helpful. The search engine itself is as brain-dead about misspelling as all the others we've encountered, so be sure you know how to spell Janelle Monae if you hope to find her. Beats: does a typo like "Bruce Springstene" really not ring any bells for you? Note to music services generally: Get your search in order. It's a black mark on the industry.
Genres
If searching is too much work, head for the Genre list in the FIND IT section.
We are unhappy to report that the genre list is dramatically inadequate as a directory. Never mind the presumptuous and annoying placement of the word "Beats" in front of each category (Beats Alternative, Beats Classic Rock) making it difficult to quickly scan the list. Only 32 genres fill out this rudimentary directory of the music landscape, with no sub-genres that any reasonably knowledgeable music-lover might expect. The ridiculous Blues/Folk genre is there, with no further assistance. Whether you like Joni Mitchell or Jonny Lang, you'll get no direction from Beats Music.
There's a reason. The genre list is not intended to furnish pathways to self-determined music discovery. It gives you pathways to entertainment. Clicking Blues/Folk divulges a long list of house playlists, many of the "Intro" type — Intro to John Lee Hooker, Intro to Pete Seeger, etc.. Most of those lists top out at 20 songs. It is lightweight curation for sure, but we enjoyed the more creative compilations like Dark and Dreary, Women of the Blues, and even the obligatory Coffee Shop Folk. These pleasures aside, mixing blues and folk is unnecessarily dumb, confusing, and off-putting.
A more successful example of how Beats prioritizes the genre experience is in the jazz (oh, Beats Jazz) genre. Obviously that immense avenue is way too broad without a sub-directory, but the sub-playlists draw the listener into alluring adventures: Unbelievable Jazz Drum Solos, Grooves for Spies and Sleuths, Mardi Gras Day, Jazz in South Africa, Vintage Cocktail Party, many jazz label spotlights, and a seemingly endless list of other stations. We relished our exploration of the jazz section, will return, and look forward to other genre discoveries.
NOTE: In the early hours of the service launch, Hip-Hop was the most-followed genre.
Highlights
The Highlights section is where Beats shows off its features. In our test account we found Highlights to be partially related to the bubble preferences, but a some sections seem to be global and un-personalized. The top Highlight at launch was a playlist of Beats founder Dr. Dre, which seems nakedly self-promotional. Some of the Highlights are merely albums. One interesting item was Lorde's Influences, compiled by Rolling Stone.
After poking around, we concluded that the magazine-style Highlights was the least engaging part of Beats Music.
Conclusion
We administered some harsh jabs in this review, but the overall impression is positive. Throughout, the packaging, navigation, and artwork are clear, attractive, and thought-out. The interface is scrubbed, shiny, and detailed without clutter. It lacks the gauzy beauty of Apple apps which maximize the graphic bleed-throughs of iOS 7, but that's not important.
We await the Android version, disappointed by the apparent delay. The Android version has been spotted in the Google Play store, as the 114th result when searching for "Beats Music."
There is an addictive quality to Beats Music, not doubt intended and crafted. The worthiest parts are exactly as advertised — original curated content. At its best (see the Curators section) the experiences refreshes streaming music for any old-timer whose Pandora stations and Rhapsody playlists have gotten stale. If Beats doesn't continually expand and evolve it will get stale, too, because the best stuff represents a small part of the service. In other respects, Beats is an attractive packaging of an established industry template, honed by services that are afraid of being too different from each other.
For someone new to streaming, Beats might seem glorious, and deservedly. The lack of artist-station functionality won't be missed. Loyal Pandora users who love that feature do not comprise the target market.
We will continue using Beats, with pleasure and interest, hoping for key improvements while exploring the heck out of its best features.