Counterpoint Research added its own data to the body of research into music streaming. The company found that global online music streaming subscriptions grew 32% on-year during 2019, reaching a total of 358 million. It projected seeing more than 450 million subscriptions, with at least 25% year-over-year growth, by the close of 2020.
In its data, Spotify was the leading streaming platform last year. The platform secured nearly a third (31%) of total revenue and more than a third (35%) of the total paid subscriptions. Apple Music came second, securing a 24% share of total revenue and a 19% share of total paid subscriptions. Amazon Music took 15% of paid subscriptions, and the combined suite of Tencent-owned services had 11%.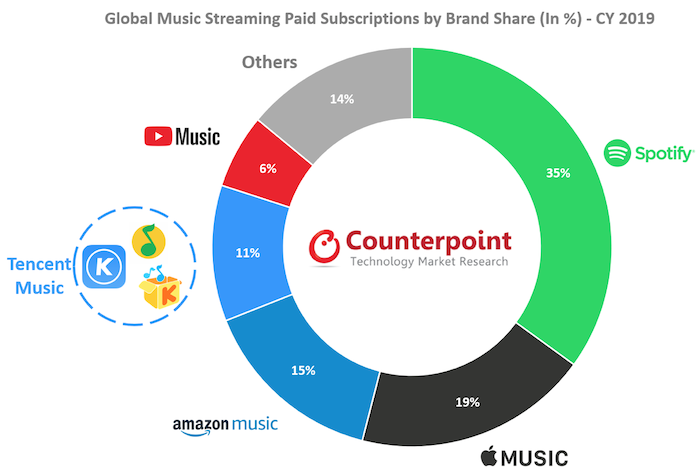 The research suggested that exclusive content, including podcasts, has been a focus for streaming services and may drive growth for paid subscriptions.
"Music streaming platforms are following a two-step approach to gain subscribers, first registering them to their platform as free users by means of excellent advertising campaigns and secondly pitching them with attractive offers to transfer them to become paying subscribers," Research Analyst Abhilash Kumar said of the results.