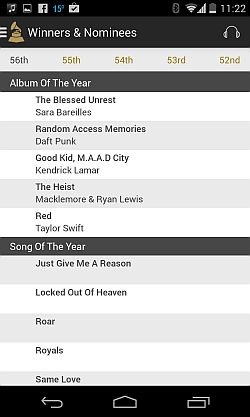 The 56th annual Grammy Awards has chosen Rdio to power its official app. This means the GRAMMYs app will source song streams from Rdio's library, using the Rdio API (Application Programming Interface).
Rdio CEO Anthony Bay said, ""The GRAMMYs iPhone app illustrates the power of Rdio's API." Not yet, though, with the Grammy ceremony two days away.
The GRAMMYs app features video interviews with nominees and other video content. Music selections don't seem to be enabled yet (iPhone or Android). A perfect place for Rdio streaming with the GRAMMYs app would be in the nominee list, but alas, the list is completely un-interactive as of this writing. The award show is two days from now — lack of nominee streaming is surprising and disappointing at this late date. (Four years of past nominees are listed; none of it makes music.)
More developed is the Grammys Rdio profile within the Rdio service, which furnishes another partnered venue for exposure of nominated music. Thirteen new playlists have been added for this year's categories.
Glancing at a few other platforms, we easily find Spotify user playlists of Grammy nominees, a couple of iTunes Radio nominee streams promoted at the top of the stack, and a curated Slacker station self-promoting as "all things Grammy." It's not like the Grammys have a lock on the actual content, so the best way to generate use of its branded app is to out-package everyone else. The Rdio playlists inside Rdio are a good start. But putting more music into the GRAMMYs app, together with the video features already there, would be ideal.