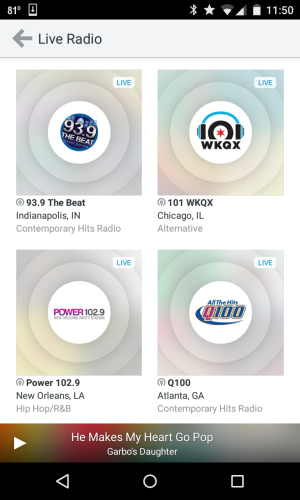 On-demand music service Rdio announced the addition of Live Radio to its feature set. The new app component fulfills a promise that CEO Anthony Bay announced at RAIN Summit West in April, to combine dynamic pureplay listening with live broadcast radio. At launch, the Live Radio section includes Cumulus stations only — Cumulus is part owner of Rdio, and manages ad sales across broadcast and Internet radio.
We tested the new app, which combines the Live Radio section with existing pureplay listening. That entire lean-back section is grouped in the main menu as "Stations." We found the listening and interactive features to work without glitches.
The interactivity is notable. FM music stations play songs whose metadata (artist/song title) is displayed, just as with online-only playlists. From there, we could Like (heart) a track, save it to a playlist, see more music from the artist, or download the song for offline playback. This functionality, nicely conceived and perfectly executed, keys into a usability trend that has been growing over the past few years, in which songs discovered via some form of traditional media are moved over to a digital environment for future access.
That scenario is a driving force behind Shazam and SoundHound, which compete with each other to enable that analog-to-digital song transfer to the greatest number of users and online services. Each company works with Spotify, Rdio, Apple, and other online music services to carry music across the digital divide from discovery (e.g. on radio, in a music club, or even by singing it into SoundHound) into an online playlist (e.g. in Spotify or Rdio).
Rdio's new Live Stations feature shortcuts that process by putting the radio directly into the online service, and allowing songs to be added to a personal library.
Apple does something similar with its new Beats 1 Internet radio service. As in Rdio, Beats 1 displays song info as it is played, then allows some of those songs (not all of them) to be stashed away by Apple Music subscribers for future access. A difference between the two experiences is that Beats 1 is a single station, and if you don't like the programming you can't switch to another human-powered, live radio option. Our Rdio test displayed 22 stations, with a total of 500 searchable Cumulus stations in the background.
Rdio's intent here is to put live broadcast radio on an equal footing with interactive playlist radio. It works well, and puts traditional radio music discovery onto the same screen with a sophisticated cloud access and management platform. The result is that users who enjoy the vibe and music selection of mainstream radio, and also the flexibility of creating mobile music libraries, can merge those two environments into a single experience.