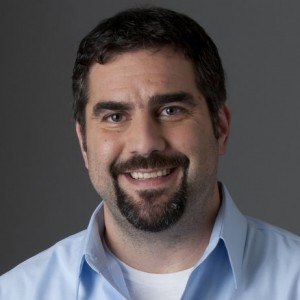 Bryan Moffett is VP, Digital Strategy & Sponsorship Operations at National Public Media (NPM). NPM is a subsidiary of NPR, owned in partnership with PBS and WGBH. Moffett will appear at RAIN Summit West in The Podcast Phenomenon: Capturing Listeners with Compelling Content, a panel discussion about the potential of podcasting.
We spoke with Moffett in a pre-Summit phone conversation about NPR's approach to its audiences via archived content, and the potential of its recently-announced launch partnership with XAPPmedia for voice-activated mobile ads.
Moffett described applications of the XAPP technology that include and go beyond sponsorship call-to-action. He knew from the start that XAPP's voice-response ads had tremendous potential. "When I first met this company, it clicked in my head instantly: 'That's what has been missing in mobile.' XAPP makes ads totally actionable, when the phone is in your pocket, or in the car dock. Here's a way you can act on a sponsorship, but also act within the app itself."
It's that second piece, using XAPP's voice-activation technology throughout the app experience, where Moffett's thoughts go outside the box. He is planning a first release with basic functions, and a second release with broader strategy.
"In the first version we're concentrating on the simple call-to-action with your voice rather than using your finger — such as go to a web page, go to an app download page, make a phone call, find things on a map, like finding the nearest Starbucks."
Moffett described some ideas for future releases of NPR mobile apps, to come after the first phase.
"The second phase includes a new app that will come out in a month or two — it doesn't have a name, but we call it Mobile Project X. It will be personalized public radio. The idea is an app we're developing with some member stations. In the Internet's listening space, you have 1) simulcast streams; 2) an on-demand/podcast space where users can pick and choose, or subscribe to a podcast show. What we want is something similar to a Pandora model, customized to you and your listening habits. We're working with member stations, our local programming, and tons of national programming."
For Bryan Moffett, the key to an effective Pandora-type podcast experience is making it sound like customized radio. "The problem with creating a Pandora for spoken-word radio is that one piece might be five minutes long, and the next one is an hour and a half. That makes a poor listening experience. We think of it as going on auto-pilot without a pilot. So we're working hard with our people in the building who know how to make great radio."
We mentioned Swell, a mobile app which now provides customized podcast streaming based on the user's taste. Moffett emphasized that Swell is a partner, not a competitor — Swell features NPR spoken-word content, and programming from other sources. Ram Ramkumar, co-founder and CEO of Concept.io, which developed and owns Swell, will participate in the podcasting panel at RAIN Summit West.
Register here for RAIN Summit West, a premiere educational and networking conference for the online audio industry, co-located with The NAB Show — Sunday, April 6, at the LVH in Las Vegas.