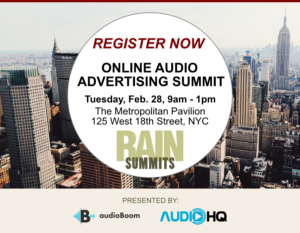 RAIN's Online Audio Advertising Summit will feature industry influencers to discuss the unique values and benefits of online audio advertising. The half-day event, February 28 at the Metropolitan Pavilion in New York, will have a twin focus on streaming music and podcasting.
A range of streaming audio platforms are represented in the agenda, including Pandora, Spotify, iHeartRadio, TuneIn, Live365, and AccuRadio. On the podcast side, audioBoom, Midroll Media, and Podtrac are on the speaker roster, as well as producers of popular podcasts Astonishing Legends and Undisclosed. Patty Newmark of Newmark Advertising and Collin Willardson, Marketing Manager of Mack Weldon, will represent the buy side of the emerging podcast advertising market.
Ad companies in the event include AudioHQ and Audio.ad, and ad-tech leaders Triton Digital and AdsWizz are also contributing thought leadership.
Research plays a part in every RAIN Summit. On February 28 Nicole Beniamini of Edison Research will bring new insights not publicly released from the influential Share of Ear study. A special presentation by "sonic alchemist" Steve Keller, from Nashville, will blend science and art into an entertaining presentation designed to open eyes (and ears) to the significant impact sound can have on a brand's bottom line.
This event sold out in 2016. CLICK HERE for registration.
---

---
9:00 – 9:10 OPENING REMARKS
RAIN President Brad Hill and RAIN Founder Kurt Hanson
9:10 – 9:40 RESEARCH: The Digital Share of Ear – A Share of Ear Report on Digital Audio Listening
Nicole Beniamini (Director of Research, Edison Research)
Presenting new insights from the influential Edison Share of Ear study. New information, not publicly available, on Americans' share of time spent listening to digital audio.
9:40 – 10:20 PANEL: Podcast Advertising 360
A holistic view of the unique values of on-demand audio. Program creators, brand advertising, and agency buying come together in this fun, informative, and anecdote-driven panel discussion of the marketing opportunity in podcasting.
MODERATOR: Thomas Mancusi (VP, Sales & Development, audioBoom)
Collin Willardson (Marketing Manager, Mack Weldon)
Dennis Robinson (Executive Producer, "Undisclosed")
Patty Newmark (CEO and President, Newmark Advertising)
Scott Philbrook (Creator/Executive Producer, "Astonishing Legends")
10:20 – 11:00 PANEL: A Broader View of Streaming Audio
Alongside the mainstream music services with broad demographic audience populations, there are a large number of streaming audio brands that offer differentiated consumer values which garner unique and non-duplicative audiences. This revealing panel reveals a broader-than-usual view of the streaming audio landscape.
MODERATOR: Matt Cutair (CEO, AudioHQ)
Bill Hartman (VP, Strategic Partnerships and Business Development, TuneIn)
Jon Stephenson (President, Empire Streaming & Live365)
Kurt Hanson (Founder & CEO, AccuRadio)
---
11:00 – 11:20 NETWORKING BREAK
---
11:20 – 11:50 CONVERSATION: Measuring Podcast Listening
The podcast audience is growing. But how are people listening? that question is harder to answer because of multiple distribution points for most shows, each of which feeds back different information. This discussion with two podcast pioneers identifies the challenges of podcast metrics, and shines a light on emerging solutions.
MODERATOR: Brad Hill (President, RAIN)
Lex Friedman (Chief Revenue Officer, Midroll Media)
Mark McCrery (Founder & CEO, Podtrack & Authentic)
11:50 – 12:30 PANEL: The Cutting Edge of Data
Digital audio advertising offers a powerful complement to the undifferentiated reach of traditional radio. What's the latest in data-rich audience targeting, measurement, smart impressions, and efficient buying? Leaders of major streaming platforms discuss online radio advertising today, with glimpses of tomorrow.
Alexis van de Wyer (CEO, AdsWizz)
Doug Sterne (VP Audio Development & Strategy, Pandora)
Brian Kaminsky (President of Programmatic and Data Operations, iHeartMedia)
Sean Kegelman (Global Head of Data Monetization, Spotify)
John Rosso (President, Market Development, Triton Digital)
12:30 – 1:00 PRESENTATION: Sound Business: Giving Brands A Voice
Steve Keller (CEO, iV, and Sonic Alchemist)
In today's media rich environment where audio-enabled touch points are increasingly available, the strategic use of sound plays a key role in brand differentiation, recognizability, emotional connection, consumer engagement, brand perception and behavior formation. Steve Keller, iV CEO and "sonic alchemist," blends science and art into an entertaining presentation designed to open your eyes (and your ears) to the significant impact sound can have on a brand's bottom line.
---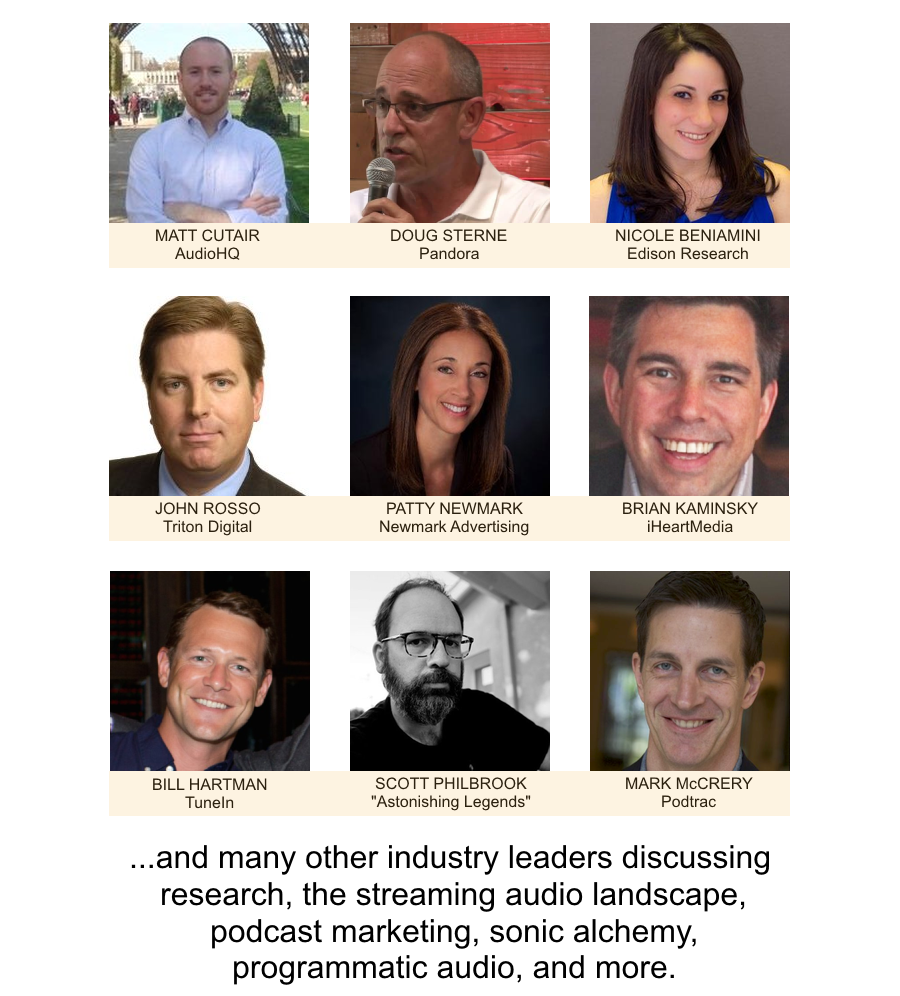 ---