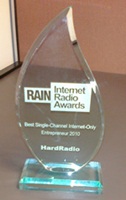 This week we are revealing finalists in the 7th Annual RAIN Internet Radio Awards. Today we are pleased to announce the advancing finalists in the "Best Single Stream Webcaster" category.
The single winners of all six categories will be revealed and honored at RAIN Summit Nashville on September 20, as the closing session of the day-long conference.
This category celebrates the best pureplay webcaster with a single stream of radio content. It is one of the most popular categories each year, and therefore one of the most competitive, receiving many self-nominated entries. The judging panel, comprised of industry experts unaffiliated with the competing services, may evaluate all aspects of the singe-stream pureplay experience, including programming, personality, stream reliability, and distinctiveness.
Congratulations to this year's finalists (in alphabetical order):
MyGreeneRadio.com: MyGreeneRadio was created to give the residents of Greene County, Ohio a local voice and outlet for targeted information. The station features locally focused podcasts, weather information, a community event bulletin board, an avenue for advertisers, and a mix of upbeat rock and country music.
Radio Paradise: Radio Paradise is a blend of many styles and genres of music, carefully selected and mixed by two real human beings. the station plays modern and classic rock, world music, electronica, and a bit of classical and jazz. The programming team strives to make a diverse assortment of songs flow together.
TheRoots.fm: Developing a unique programming style called "Free Form Classic Rock" to target a large underserved audience of in St. Louis, MO, and to go beyond the typical Classic Rock playlist. It is a pureplay internet station serving a region of the Midwest that falls into a 200 mile radius of St. Louis.
Thanks to all of our nominees. The RAIN Internet Radio Awards recognize the achievements and the best practices of the internet radio industry.
RAIN Summit Nashville is the premiere knowledge and networking conference for the Internet radio and online audio industry and a partner event of The Radio Show. Scott Borchetta, Founder and CEO of Big Machine, will keynote the event. Join us for the industry's best knowledge sessions, the networking, the AWARDS, and the best cocktail party in the industry!